Kwik Trip Holiday Face-Off
College Hockey Tournament
Kwik Trip Holiday Face-Off
College Hockey Tournament
Event Information
The matchups are set for the 2023 Kwik Trip Holiday Face-Off (@HolidayFaceoff) which will take place Dec. 28 – 29 at Fiserv Forum. Single-day and two-day packages are available for purchase at FiservForum.com.
The third annual Kwik Trip Holiday Face-Off will begin with the semifinal round on Thursday, Dec. 28 when Wisconsin takes on Air Force and Minnesota Duluth squares off against Northeastern.
The semifinal winners will meet for the title game on Friday, Dec. 29, preceded by the consolation match.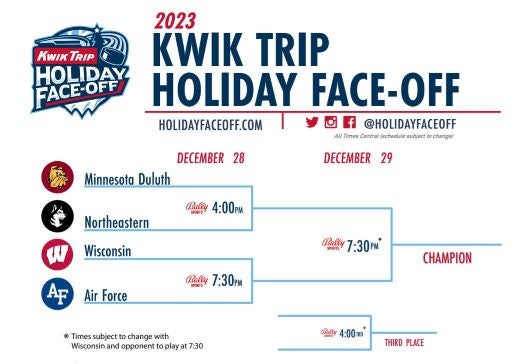 Last year, Clarkson won the 2022 Kwik Trip Holiday Face-Off after defeating UMass 6-3 in the semifinal and Wisconsin 3-1 in the championship game.
Information on the Kwik Trip Holiday Face-Off will be posted on Twitter @HolidayFaceoff and Instagram @HolidayFaceoff. To be the first to receive updates on the Kwik Trip Holiday Face-Off, sign up for Gazelle Updates.
---
MILWAUKEE (Jan. 5, 2023) – The third annual Kwik Trip Holiday Face-Off men's college hockey tournament returns to Fiserv Forum on Dec. 28-29, 2023, featuring Wisconsin, Minnesota Duluth, Northeastern and Air Force. Tickets for the two-day event will go on sale on Wednesday, May 3 at 12pm.
Wisconsin won the inaugural event in 2021 and advanced to the title game of the 2022 tournament last week. Head coach Tony Granato is in his seventh season at his alma mater and is a member of the U.S. Hockey Hall of Fame and a two-time Big Ten Coach of the Year honoree. The Badgers have a hockey history of 26 NCAA Tournament appearances and six National Championships.
In 23 seasons behind the Minnesota Duluth bench, head coach Scott Sandelin has led the Bulldogs to over 430 wins and three National Championships, including back-to-back titles in 2018 and 2019. In addition to their three National Championships, Minnesota Duluth has been to 15 NCAA Tournaments.
Northeastern is under the direction of second-year head coach Jerry Keefe, who is the reigning Hockey East Coach of the Year for guiding the Huskies to a 25-13-1 mark, including 15-9-1 in league play in earning the program's first-ever regular season title. Northeastern has been to the NCAA Tournament eight times.
In 26 years with Air Force, Frank Serratore has led the Falcons to 432 wins, one of seven active coaches (along with Scott Sandelin) with over 400 career wins. He has also guided the Falcons to seven conference championships and seven NCAA Tournament appearances – the only NCAA trips in Academy history.
In the 2022 Kwik Trip Holiday Face-Off last week, Clarkson scored six unanswered goals in downing No. 15 UMass, 6-3, in the semifinals and then captured the title with a 3-1 win over Wisconsin.
Tickets for the 2023 Kwik Trip Holiday Face-Off, as well as the schedule, will be announced at a later date at fiservforum.com.